Smart Building Energies reduces business costs with its innovative monitoring solution
Introduction to Wave Monitoring
Smart Building Energies, a subsidiary of VINCI Energies France, in collaboration with Greenaffair, has developed a new energy monitoring platform called Wave Monitoring for the 700 buildings of VINCI Energies France. This innovative solution retrieves electricity consumption data from Enedis cloud and gas consumption data from GRDF cloud, without the need for instrumentation in the buildings. The data is retrieved daily, allowing the energy managers of VINCI Energies France to monitor the consumption of each building "almost" in real-time.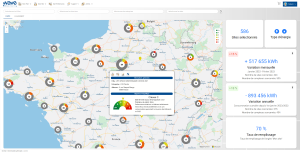 Wave Monitoring platform also allows companies to have a consolidated view of their building park. It provides an overview of the energy consumption of the buildings and enables a comparative analysis between them. Energy managers can quickly identify buildings that consume too much energy and take actions to reduce their consumption.
Companies can also go further by equipping their buildings with Wave Platform. This platform, available on the Microsoft marketplace here, offers additional features such as the management of heating, air conditioning, lighting, blinds, intrusion alarm, access control, sub-metering (water, gas, electricity), reservations of meeting rooms or parking spaces, management of IRVE (infrastructure for charging electric vehicles) and solar panels. The platform allows for global building management and optimizes energy consumption, improves occupant comfort, and reduces costs for companies.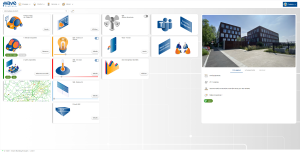 By using Wave Platform, companies can pilot their buildings in real-time via a scheduler (automated actions) or via PC, tablet, or smartphone (human actions). This solution enables dynamic building management and offers great flexibility in equipment management. Companies can quickly adapt to the needs of their occupants and optimize their energy consumption.
In conclusion, Smart Building Energies' Wave Monitoring platform allows companies to master their energy consumption in a global and efficient way. It provides almost real-time monitoring of consumption, rapid detection of anomalies, global building management, and cost reduction. Companies can also use Wave Platform to pilot their buildings in real-time and benefit from additional features. This solution contributes to achieving sustainable development goals and energy performance objectives for companies.
🌍 For more information on our energy monitoring solution or for any inquiries, please do not hesitate to contact us by filling out the contact form.