WavePlatform : Your building at your fingertips
Dedicated to Smart Building, our team supports you and your smart building's projects through advices, implementations and maintenance of automatized and informatized's systems. In 2019, we created Wave Platform in order to answer as best as possible to the needs of companies and employees in terms of managing energies, services and comforts. So get your smartphone! Now the only thing you can do is to fully enjoy your building! 🙌
Wave, la webApp pour tous les appareils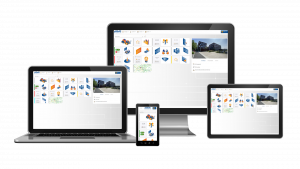 WAVE comes in the form of a responsive web site (the website fits on the screen of a smartphone as well as on a computer or a tablet). The content is customizable according to the context of your business. Here the home view offering shortcuts to parking, comfort, services …
Adjust the comfort parameters in a few clicks
With WAVE, you will be able to regulate the temperature, heating but also the blind's tilt and position from your smartphone, personal computer or tablet. WAVE offers you the possibility to see each floors of the building. The technical data will be exported from the drawing software (Autocad for example). The sensor (temperature) and the actuators being controlled can be seen in this view.
Book a parking space
Book a parking space per day or period. WAVE offers the possibility to its user to book a parking space. The webApp shows you your agenda through its mail system, the user can easily decide if he needs a spot per day or period. The system is paired to IOT sensors which allow you to know real time parking spot occupation.
You can easily plan your meeting by booking a conference room and the related equipment
As the parking spot reservation, the system interfaces with your messaging tool. You can book a meeting room depending on the number of people attending and you can check as well availability. Of each conference room according to the planning function. A view of your reservations is available, you can remove bookings and have access to your history.
With WAVE, manage your energy consumption
WAVE uses technological bricks of Microsoft Azure, like Time Series Insights for energy management.
With TSI, all the values ​​of your building are logged in big data mode and can be retrieved via API or via the explorer below.
Set up your building functions
With WAVE, you can easily set up the buildings functions. You can do so in the set up view. With it, you can link the sensors and the actuators to a special area in order to facilitate the building control. For example, it is possible to set up the blind light closing, and the interruption of the heating system by a simple alarm activation from your smartphone at the end of the day. The automation of those actions can help you making big energy saving.